Recipe: Perfect Cheddar baked chicken
Cheddar baked chicken. Baked cheddar chicken is easy and delicious. This Garlic Cheddar Chicken Bake is a chicken casserole that will make waves at your next potluck. Back in the day we used to do each others recipes all the time!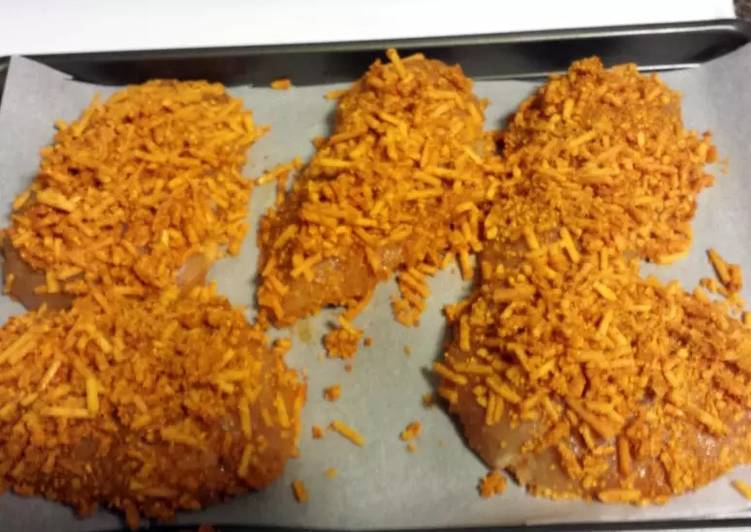 These were the perfect ingredients for an easy baked ranch cheddar chicken bacon cheese recipe. A quick and easy baked chicken strip that is coated in a buttery garlic and cheddar cheese. They have such amazing flavor and are sure to be a meal that the entire family loves! You can have Cheddar baked chicken using 6 ingredients and 6 steps. Here is how you cook that.
Ingredients of Cheddar baked chicken
You need 2 of chicken breasts.
Prepare 2 cups of thick shredded extra sharp cheddar cheese.
Prepare 1 package of taco seasoning.
Prepare 1 package of mac and cheese powder.
Prepare 1/4 cup of milk.
You need 2 of eggs.
Unfortunately, a lot of chicken strips aren't the best for you or your kids, especially when ordered at Kid-Friendly Cheddar Baked Crusted Chicken Strips. These Baked Chicken Strips are SO CRISPY, flavorful, and delicious. Coated in ranch, cheese, and bacon, and baked to perfection. The chicken come out super crispy and mixes well with the cheese.
Cheddar baked chicken instructions
Preheat oven to 350°.
Cover baking sheet with parchment paper.
In a bowl whisk together eggs and milk, in another bowl toss together shredded cheese, mac and cheese powder, and taco seasoning..
Cut chicken in half so you have 4 pieces.
Dip each piece of chicken in the egg/milk mixture, then press the chicken in the cheese mixture to coat all sides..
Place chicken onto parchment lined baking sheet. Bake for 40 minutes or until cooked through.
Baking with fruit doesn't just mean making a fruit cake. It means whipping up muffins bursting with blueberries. Crispy Cheddar Chicken (AKA Ritz Cracker Chicken) is coated in sour cream, cheddar cheese, and ritz cracker crumbs and baked to crispy perfection. Betty demonstrates how to make Baked Cheddar Chicken. This is a recipe for baked chicken tenderloins with a cheddar cheese and Ritz cracker crumb coating.